Choosing the Right Uniform Manufacturer
Uniforms play a significant role in creating a professional image for businesses across various industries. Whether it's a restaurant, healthcare facility, or corporate office, the uniforms worn by employees convey a sense of unity and competence. As a business owner, selecting the right uniform manufacturer can greatly influence the quality and impact of these uniforms.
When looking for a uniform manufacturer, consider their reputation and experience in the industry. Established manufacturers often have a track record of delivering high-quality, durable uniforms that withstand the demands of daily wear and tear. By choosing a reputable manufacturer, you ensure that your uniforms not only look good but also stand the test of time.
A reliable uniform manufacturer will also offer customization options that align with your brand's identity. From color schemes to logos, the ability to tailor uniforms according to your business's unique aesthetics is essential. This personalization not only reinforces your brand but also fosters a sense of pride among employees, leading to increased morale and a stronger sense of belonging.
In conclusion, the process of selecting a uniform manufacturer should not be taken lightly. The right manufacturer can elevate your business's image, enhance employee satisfaction, and contribute to a positive customer perception. By investing in high-quality, customized uniforms from a trusted manufacturer, you're making a long-term investment in your business's success.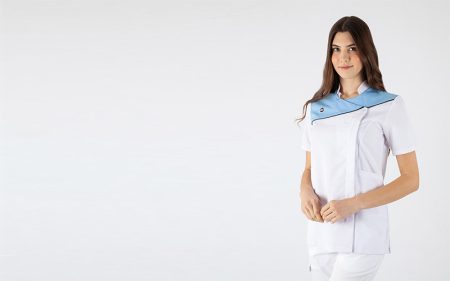 Key Factors to Consider When Choosing a Uniform Manufacturer
Choosing a uniform manufacturer requires careful consideration to ensure that you receive the best value for your investment. Here are some key factors to keep in mind:
Quality and Durability: Look for a manufacturer that uses premium materials and employs skilled craftsmanship. Durable uniforms will maintain their appearance over time, reducing the need for frequent replacements.
Customization Options: The ability to customize uniforms to reflect your brand's colors, logos, and style is crucial. A manufacturer that offers flexibility in design helps your business stand out.
Industry Experience: Opt for a manufacturer with experience in producing uniforms for your specific industry. They'll understand the unique requirements and challenges, resulting in better-suited uniform solutions.
Technology and Innovation: Manufacturers that embrace technological advancements can offer modern fabrics, eco-friendly options, and innovative designs that align with current trends.
Customer Reviews and References: Research the manufacturer's reputation by reading customer reviews and seeking references. Positive feedback and satisfied clients are indicators of a trustworthy manufacturer.
Timely Delivery: Punctual delivery of uniforms is essential to avoid disruptions in your business operations. Choose a manufacturer known for their reliability in meeting deadlines.
In conclusion, a thorough evaluation of these factors will guide you towards selecting the right uniform manufacturer for your business's needs.
How a Professional Uniform Manufacturer Enhances Company Identity
A professional and cohesive company identity is a vital component of any successful business. Uniforms play a pivotal role in establishing this identity, and a skilled uniform manufacturer can contribute significantly to the process.
Consistency: A uniform appearance across your workforce creates a sense of unity and professionalism. A reputable manufacturer ensures that each uniform is consistent in design, colors, and branding elements.
Brand Reflection: Your uniforms serve as a tangible representation of your brand. A proficient manufacturer will capture your brand's essence and integrate it seamlessly into the uniform design.
Employee Morale: Wearing well-designed uniforms instills a sense of pride among employees. When they feel connected to the brand, it reflects positively in their performance and interactions with customers.
Customer Perception: Uniforms influence how customers perceive your business. A polished and coordinated uniform look signifies competence and reliability, which can influence customer trust and loyalty.
Longevity: Professional uniform manufacturers prioritize quality and durability. Investing in uniforms that last underscores your commitment to excellence and reduces long-term uniform expenses.
In conclusion, collaborating with a professional uniform manufacturer elevates your company's identity, fosters employee engagement, enhances customer perceptions, and contributes to the overall success of your business.
Contact Us
Cation Work Wear produces workwear for leading brands in Turkey such as Coca Cola, Tüvtürk, Bridgestone, Migros, Lassa, Betonsa, Mng Kargo, Aksa Doğalgaz, Arçelik, ISS and İpragaz. Cation Workwear is one of the largest manufacturers in the sector, which includes its design and production units. You can contact us with informations in our contact page. Our phone number is +90 212 554 83 31 and our e-mail address is info@cationworkwear.com. We will be glad to help you with bespoke workwear production projects.