How does a textile protect a life?
A technical textile is a material or a piece of fabric used for production of workwear or other attires which main role is to protect the wearer's body, rather than having an aesthetic purpose. Many lives have being saved and protected since the discovery of these textiles and their usage in work life. Regarding the foregoing we deduce that work clothes are specially designed attires to protect people against very high or very low temperature, sparks and even flames, chemicals, electricity, radiation, water or inhalation of different types of gas or chemicals. As a work clothes producer, we ensure to use the best quality textiles for our products.
Security and quality: the mission of a technical textile producer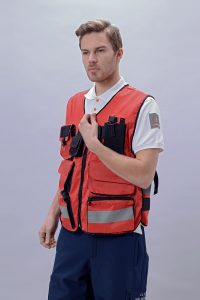 YL 17054
In view of all the above mentioned, our mission is to make the worker's life easier, more secure and free from care. Many of nowadays activities would not have been possible without the existence of a work clothes manufacturer that creates special attires for dangerous environments. For example, the firefighter's job is possible only due to the existence of these textiles. They protect the life of the workers, also make possible the salvation of others from flames and smoke intoxication.
A wide variety of work clothes for all requirements and preferences
Being one of the biggest manufacturer in the country, we pay maximum attention to quality, production, variety of choices and customer's needs and requirements. We offer a wide range of workwear such as overall, T-shirt, work coat, jacket, vest, trousers, gown or shirt. They are all available in many different colors. Apart from being an important workwear producer, we are a T-shirt manufacturer as well that creates quality pieces for workers. For example, we add phosphorescent details for protecting the people during night, making them visible through the dark. Regarding our T-shirt producer's biggest goal, Cation Work Wear concentrates its attention on quality, safety and comfort.
We as Cation Workwear & Uniforms are providing best quality workwear and uniform product to Turkey's leading companies such as  Mercedes-Benz, Tüvtürk, Enerjisa, Betonsa, Aksa Doğalgaz, Doğuş Otomotiv. You can get in touch with us with our contact page, or send us an e-mail at info@cationiselbisesi.com or call us on +90 212 554 83 31.