By choosing corporate wear, the image of the companies will emphasize on unity, equality, discipline and confidence. There are many advantages why a company should choses corporate clothing instead of daily outfits. Among the benefits we should make much of the followings: promoting the team building, crating brand awareness, providing free advertising of the business and giving a professional image to the company. Furthermore, workers do not have to spend much money on office outfits anymore and in some cases even cleaning is not a burden anymore since many companies take responsibility over laundry.
Production of corporate clothing in Turkey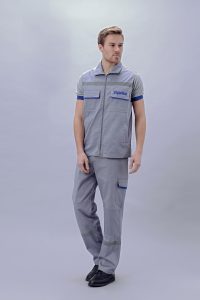 TK 17029
As many companies have begun seeing corporate clothing as a factor for success, corporate wear production is increasing as well in many countries, including Turkey. Cation Work Wear is a workwear and corporate wear manufacturer, which provides many solutions for business and companies that want to inspire safety, professionalism, comfort and utility, all characteristics in the same time. Regarding corporate clothing, we produce T-shirts, shirts, blazers, coats and trousers for both women and men. The textiles used in this process are high quality, which gives our products durability and quality over extra using-up and multiple washes.
Aspect and design for customer's preferences
We know how important clothes can be in people's lives. They give a sense of motivation, grace and they define the wearer's personality. People feel good when they are content about their appearance. That is why, as a corporate wear manufacturer, we took into consideration all these aspects and created products that surely meet our customer's requirements. In terms of design, our corporate wear producer offers various styles and colors in order to match different corporate looks. We can also attach company logos, individual names or departmental identifiers. The design is neat and elegant, perfect for a professional look.
We as Cation Workwear & Uniforms are providing best quality workwear and uniform product to Turkey's leading companies such as  Mercedes-Benz, Tüvtürk, Enerjisa, Betonsa, Aksa Doğalgaz, Doğuş Otomotiv. You can get in touch with us with our contact page, or send us an e-mail at info@cationiselbisesi.com or call us on +90 212 554 83 31.